Types of trains from Moscow to Saint Petersburg
The route Moscow - St. Petersburg is mostly served by branded trains, which provide a certain level of comfort and range of services, bio toilets and air conditioning. In some cars the meals are included in the ticket price, passengers of other cars can order meals to their compartments or visit a restaurant car. Express day trains have seating cars with economy and business cars. Night trains offer four types of sleeper cars: luxury – double cabin with private bathroom, premium - compartment with 2 berths, second-class - compartment with 4 berths, and third-class – dormitory-style car.
The fastest train option to travel from Moscow to Saint Petersburg is taking a high-speed train that reaches its destination in about 4 hours. There are two brands of high-speed trains between the two Russian capitals – Sapsan and Nevsky Express. Both of them are seating day trains.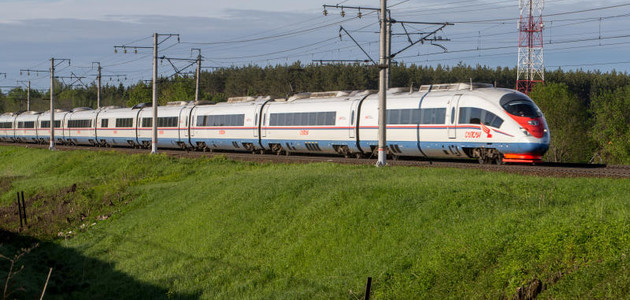 The most popular train between Moscow and Saint-Petersburg is high-speed train Sapsan – and the most frequent: 13 trains leave Moscow every day to St. Petersburg, and 2 more depart on Saturdays and Sundays. Each train consists of 10 cars, sometimes there are double trains with 20 cars: all of them are seating, the class of seats and service ranges from economy to business and premium. Meals are included in all cars except economy class, there is also a bistro car. Car # 6 is equipped for disabled people, in the car # 10 there are special seas for passengers with children. Sapsan rating: 4.81/5 based on 2209 reviews of travellers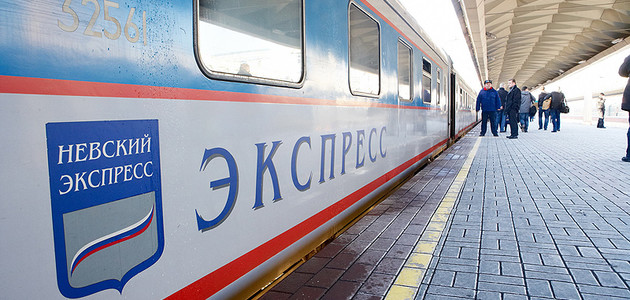 Nevsky Express was the first high-speed train in Russia. Now this train is less popular than Sapsan, however, it also gets from Moscow to St. Petersburg in only 4 hours. There is only one train a day, but the time is quite convenient: the train departs from Moscow daily at 13:40, and arrives to St. Petersburg at 17:45. The tickets fare for Nevsky Express is usually lower than for Sapsan, while the price includes meals. The advantage for a family or a small group of travelers is that the car is not open-spaced like on most seating trains, but have 4-seater compartments, which gives the company of travelers more privacy and comfort.
02.
Luxury sleeper trains
Three luxurious trains - Grand Express, Red Arrow, and Express - boast not only the most convenient timetable, but also a wide range of services and best-trained stuff. For passengers who appreciate real comfort and privacy, these trains offer spacious VIP coupes with individual bathrooms, wide berths and included additional services. These luxury compartments are sold entirely for single or double occupancy.
Several branded sleeper trains run from Moscow to Saint Petersburg every night, among them we recommend Megapolis, Arktika and Doubledecker. They offer berths in the compartments of first or second class cars with a/c and bio-toilets, the meals can be included in the price or served at the restaurant car at the additional cost.