Train Timetable for Moscow - St. Petersburg. Buy Train Tickets Online.
Types of trains from Moscow to Saint Petersburg
High-speed trains
The fastest train option to travel from Moscow to Saint Petersburg is taking a high-speed train that reaches its destination in about 4 hours. There are two brands of high-speed trains between the two Russian capitals – Sapsan and Nevsky Express. Both of them are seating day trains.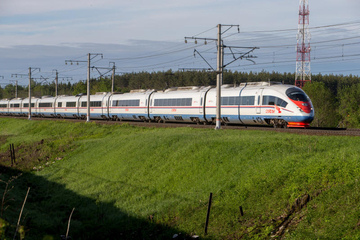 The most popular train between Moscow and Saint-Petersburg is high-speed train Sapsan – and the most frequent: 13 trains leave Moscow every day to St. Petersburg, and 2 more depart on Saturdays and Sundays. Each train consists of 10 cars, sometimes there are double trains with 20 cars: all of them are seating, the class of seats and service ranges from economy to business and premium. Meals are included in all cars except economy class, there is also a bistro car. Car # 6 is equipped for disabled people, in the car # 10 there are special seas for passengers with children. Sapsan rating: 4.81/5 based on 2209 reviews of travellers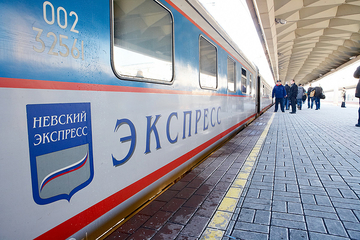 Nevsky Express
from

74.60 $
Nevsky Express was the first high-speed train in Russia. Now this train is less popular than Sapsan, however, it also gets from Moscow to St. Petersburg in only 4 hours. There is only one train a day, but the time is quite convenient: the train departs from Moscow daily at 13:40, and arrives to St. Petersburg at 17:45. The tickets fare for Nevsky Express is usually lower than for Sapsan, while the price includes meals. The advantage for a family or a small group of travelers is that the car is not open-spaced like on most seating trains, but have 4-seater compartments, which gives the company of travelers more privacy and comfort.
Luxury sleeper trains
Three luxurious trains - Grand Express, Red Arrow, and Express - boast not only the most convenient timetable, but also a wide range of services and best-trained stuff. For passengers who appreciate real comfort and privacy, these trains offer spacious VIP coupes with individual bathrooms, wide berths and included additional services. These luxury compartments are sold entirely for single or double occupancy.
Overnight trains
Several branded sleeper trains run from Moscow to Saint Petersburg every night, among them we recommend Megapolis, Arktika and Doubledecker. They offer berths in the compartments of first or second class cars with a/c and bio-toilets, the meals can be included in the price or served at the restaurant car at the additional cost.
From Moscow to Saint Petersburg by train
Moscow and St. Petersburg are the two main Russian centers of business and culture, that's why the way from Moscow to Saint Petersburg is one of the most popular train routes in Russia and is widely used by tourists as well as locals. To serve this demand, trains depart from Moscow to Saint Petersburg frequently: there are more than 25 daily departures and many options from the most budget ones to luxury trains looking more like hotels. You can always choose convenient departure time as there are trains departing every 1-2 hours from the early morning till late night.

The distance of 650 km between two capitals of Russia can be covered in quite short time from 10 to 4 hours by train. Sleeper trains usually cover this distance during the night, on average it is 8 hours. High-speed seating trains run from morning till evening and get from Moscow to Saint Petersburg in about 4 hours. This travel option is considered to have a great advantage over a flight as both train stations are located in the city centre and near metro which makes your further journey to the hotel or a tour much faster and easier. Alternatively, overnight trains also offer a great way of travel, when you take your train, sleep all night and arrive fresh and rested in the morning.

The route Moscow - Saint Petersburg is mostly served by branded trains, which provide a certain level of comfort and range of services, bio toilets and air conditioning. In some cars the meals are included in the ticket price, passengers of other cars can order meals to their compartments or visit a restaurant car. Express day trains have seating cars with economy and business cars. Night trains offer four types of sleeper cars: luxury – double cabin with private bathroom, premium - compartment with 2 berths, second-class - compartment with 4 berths, and third-class – dormitory-style car. More detailed information about types of sleeper cars on Russian trains is in our article
Departure and arrival train stations
Trains depart from Kurskiy train station and Leningradskiy train station in Moscow. There are more departures from the latter as this is the main train station of Moscow. Leningradskiy train station has cozy lounges and waiting rooms. If you are bringing too many bags you can use the services of porters to carry your luggage. If you need to leave your luggage at the station upon arrival, there is a storeroom at the station. For the last-minute shopping before the train departure you can visit Moskovskiy Department Store — one of the oldest shopping malls of Moscow which has a wide range of clothing, gadgets, perfumery and souvenirs.

Most trains including Sapsan arrive to Moskovskiy train station. This train station is located in the very center of Saint Petersburg, in five minutes' walk from the main street of the city — Nevsky prospect and right next to the biggest shopping mall called Galleria. Trains that pass Saint Petersburg as a transit city usually stop at Ladozhskiy train station which is quite remote from the city center but still has metro and ground transport connection with the central part.

We will be glad to offer you a service of transfer as you arrive to Saint Petersburg; our driver will meet you at the carriage from any train station and drop you off at your hotel for a moderate fee. There are many things to see in Saint Petersburg so you may also want to visit one of our private guided tours.
Find train times and buy tickets from Moscow to St. Petersburg
You can also be interested in...
Popular routes from Moscow
Popular routes from St. Petersburg